September Tanzey Talk
A brand new award program called The Quills has been established this year. The Quills is the first national book awards program in which the people, not the critics, decide who's the best of the best. Here's the direct link for more info on the award and how to vote – http://quillsliteracy.org/. Since voting ends September 15, you need to log on right away.
As you're reading this, Allen and I are preparing to take off for a couple of weeks in our motor home. We're heading to the Black Hills in South Dakota, the Tetons and Yellowstone in Wyoming and then who knows where. We love the leisurely pace of this sort of travel and the chance to explore our vast and beautiful country. You may recall, I wrote part of my February column while we were vacationing down south - New Orleans, Mississippi's gulf shore area, etc. It breaks our hearts to see the total devastation that's occurred to that gorgeous and historical area of our nation. What a tragic situation, but I know all of us will do whatever we can to aid in this grave time of need. That's what Americans do, no matter our differences, we pull together when we need to the most.
Now for some of my recommended reading from this past month: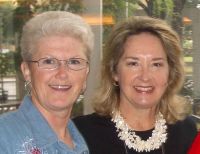 I've got some exciting news from Jo-Ann Power, who's been busy the past several years growing her promotional business – Power Promotions – as well as continuing to write. Now, she's delighted to announce that she's just sold two books to St. Martin's Press for hardcover release (followed by paperback) with the first one scheduled for next fall. She goes on to tell me, "These are mysteries, starring a Texas Congresswoman (of a certain age) and her younger, very attractive assigned bodyguard, a dude who acts like Mr. Bond, sounds like Mr. Corleone and might be Mr. Right. In the first book, MISSING MEMBER, Congresswoman Carly Wagner finds her party's Whip dead in her inner office chair with her letter opener in his one hand and his...member...in the other." Sounds quite intriguing and interesting, doesn't it? I can't wait to read it!
In December, HIGH HEELS AND HOMICIDE by Kasey Michaels is slated for publication from Kensington. In this latest Maggie Kelly mystery, someone murders the scriptwriter during the filming of Maggie's novel.
Now that Lisa Kleypas is finishing her last historical romance for Avon, she's starting to work on her first contemporary romance for St. Martin's.
Also switching genres is Emma Holly, whose next book is a Regency-set vampire romance. COURTING MIDNIGHT will be released as a Beckley Sensation in October.
Also in October, watch for a new historical from Lisa Jackson, her first since 2003. TEMPTRESS (from NAL) is set in medieval Wales and features a creepy serial killer along with a sensual romance.
Debbie Macomber's 50 HARBOR STREET is on sale now. She says that book six and portions of book seven of this ongoing series have already been plotted, and she's ready to start writing them. Fans will be delighted to know that she's contracted through book nine, and she's hoping that there will be even more after that.
Speaking of ongoing series, Kathryn Shay starts another one this month with SOMEONE TO BELIEVE IN from Beckley Sensation. The heroine of this book, Bailey O'Neil, has four brothers who are just itching to have their stories told. Kathy has just informed me that each one of these Irish rascals will get his own book in the future. Can't wait!
This month, Judi McCoy concludes her Starlight trilogy with WANTED, ONE SEXY NIGHT. Then she'll be busy developing a new trilogy that will feature Greek mythology and her usual touch of whimsy. The first title is ALMOST A GODDESS.
Several readers have been wondering when the next Francesca Cahill historical mystery will be coming in Brenda Joyce's wonderful Deadly series. Looks like you'll have to wait until February 2006 for Mira to release DEADLY KISSES, so mark your calendars.
I'm getting all primed and ready for Maddy Hunter's next Passport to Peril mystery – HULA DONE IT? – that's slated for release in November. As the name implies, the quirky tour group is head to Hawaii this time, where a treasure hunt turns (what else?!) deadly.
Attention mystery lovers!! The second Great Manhattan Mystery Conclave is scheduled for September 30 – October 2, 2005, in Manhattan, Kansas. This event is not only geared to writers of mystery, but to readers, as well. Featured speakers and presenters thus far are Carolyn Hart, Susan Witting Albert, Patricia Sprinkle, Letha Albright, Susan McBride, Denise Swanson, Marcia Talley, Nancy Pickard, Linda Madl and Mark Bouton, just to name a few. To learn more about the workshops, authors attending and how to register, go to www.manhattanmysteries.com.
And stay tuned…
Tanzey
---
Line-Up by Lorri
Wow, there's so much good reading this September from the folks at Harlequin and Silhouette that I hardly know where to start. Thank goodness, the summer is winding down, and the kids are on their way back to school, leaving lots of time to explore all these great titles.
Harlequin Superromance celebrates its 25th anniversary this month, with six outstanding titles including 25 Years an anthology featuring Best Friends by Tara Taylor Quinn; Wade in the Water by Margot Early and A Visit from Eileen by Janice Macdonald. Each story spans the same 25-year period and explores love, friendship and family bonds. Be sure to check out Lexi Carter's review of this fantastic book
Also on my must read list this month from Superromance is Big Girls Don't Cry by Brenda Novak. The story of suddenly single mom Reenie Holbrook who trying to rebuild her life after her 11 year marriage ends, this one promises to be a real page-turner.
For those of you who enjoy a little mystery and suspense with your romance, there are a lot of great titles to choose from this September.In the Intimate Moments line, Wendy Rosnau's Perfect Assassin, looks like a winner. Part of the Spy Games miniseries, this installment is the story of a dangerous young assassin, who realizes the man she's supposed to take out is the man she's falling in love with. This one must be a great read, because my 15-year-old daughter picked it up yesterday and can't put it down. Can't wait to read it myself, hope she'll be finished soon.
Harlequin Intrigue has six outstanding titles out this month; I'm not sure which one to read first. All seem to be filled with suspense, intrigue and of course, romance, obviously I'll have to read them all. Tops on my must read list are Security Measures by Joanna Wayne and Bullseye by Jessica Andersen. Security Measures is the story of single mom Janice Stevens. Fifteen years ago, Stevens testifies against the mob and was given a new identity. Suddenly, the father of her daughter reenters her life and danger follows! Bullseye features Secret Service agent Isabella Gray and ex secret service agent turned bounty hunter Jacob Powell.
For the classic romance lovers in all of us the Harlequin and Silhouette Romance lines both feature a number of great titles by many well-loved writers.On my list for this month are:
From Harlequin Romance
The Outback Engagement by Margaret Way – First in a two-part miniseries about the McIvor sisters. This installment features McIvor sister Darcy who finds out that she's inherited half of her fathers estate and the other have went to her estranged sister Cassie. To make matters worse, her father gave control of the estate to Curt Beringer, a man she almost married.Look for the second installment of this miniseries, with Cassie's story entitled Marriage at Murrarie, also by Margaret Way coming in October 2005.
Just Friends to…Just Married by Renee Roszel – Kimberly Albert's boyfriend had just walked out on her and she turns to her best friend Jaxon Gideon for comfort, what she finds is the love and stability she always dreamed of.
From Silhouette Romance
The Texan's Tiny Dilemma by Judy Christenberry –After a one-night stand with accountant Jim Schofield, Teresa Tyler finds herself pregnant! Will she accept his offer of marriage for the sake of their babies? This next installment in Christenberry's Lone Star Brides Miniseries is sure to be a page-turner. Please look for her next Lone Star Brides installment, The Texan's Suite Romance next month!
Once upon a King by Holly Jacobs – a continuation of her Perry Square Series, where there's love, marriage and a baby in the future for a soon to be king and bookstore owner Cara Phillips.
Also, look for Silhouette Romance's newest miniseries Shakespeare in Love beginning next month! The first installment of this miniseries is Much Ado about Matchmaking by Myrna Mackenzie.
Like a little sizzle in your Romance?? Then you'll want to check out the Red-Hot Reads Blaze has to offer for September. In Unzipped, by Karen Kendall part of the Man-handlers mini-series, Shannon Shane turns computer geek Hal Underwood into a hottie and the sparks fly. Also watch for Karen Kendall's next installment in the Man-Handlers miniseries, Open Invitation coming in October. Also, on my must read list for September is Sex & Sensibility by Shannon Hollis. In this page-turner, former cop, Griffin Knox is forced to work with psychic Tessa Nichols to find a missing girl.
In case that's not enough to keep you going for the month you might also want to check out the latest in the HQN line from Leanne Banks, Feet First. This is the tale of footwear designer Jenny Prillaman who gets the opportunity to design a pair of wedding shoes for a difficult heiress and her boss, at Bellagio, Inc. Marc Waterson. Will Jenny trade success to be the bosses' wife??
Well, I'm off to read – until next month keep those pages turning!
Lorri Ochoa is our newest columnist and provides information on series romances published monthly by Harlequin and Silhouette. If you're an author and want to make sure Lorri has your upcoming book information, please contact her today. To have your series book reviewed, please contact Mindy Ewing.