« Archives
One Hot Mess in stores now
Contests | Latest Buzz | Media Spotlight | Latest Reviews | Authors | Books | Bestsellers | Newsletters | Blog
Greiman's Insanity Check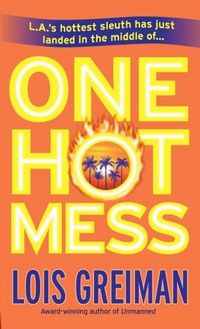 ONE HOT MESS, once called UNNERVED, was just released. Get 'em while they're hot. And if you enjoy reading...or ogling good looking guys...pop on over to www.loisgreiman.com. We've gotten some fantastic suggestions for our Rivera Look-Alike contest, so it's time to place your final votes. Just type the name of your pick in the subject line and send it to me at lgreiman@earthlink.net. One voter will receive an Amazon gift card to fire up her summer reading.
Yours Truly,
Lois Greiman
Visit www.loisgreiman.com
Fresh Fiction News Editor
©FreshFiction.com
Privacy Policy
--
To update your subscription (change from HTML to text, change your email, unsubscribe from this newsletter) visit [PREFERENCES]. If you received a copy from a friend and would like to receive your own, click [SUBSCRIBE]. If you've missed an issue of any of our newsletters, click [SUBSCRIBE] to find a link to our newsletter archives.
If you have a colleague who may be interested in this email, feel free to forward it via [FORWARD] and encourage them to sign up! All Fresh Fiction newsletters may be forwarded, printed or copied as long as the credits are included.
Sent for Lois Greiman by
Off-The-Edge
5960 W. Parker Road
Suite 278 #119
Plano, Texas 75093
You've received this newsletter because you subscribed to it OR you're a friend of Lois. To unsubscribe from all our newsletters please click [UNSUBSCRIBE].