Spotlight on Cathy Maxwell
THE CHATTAN CURSE Casts A Long Shadow
LYON'S BRIDE
by
New York Times Best-selling Author
Cathy Maxwell
In LYON'S BRIDE, (Avon Books; May 1 2012; $7.99; ISBN 0062070223) New York Times best-selling author CATHY MAXWELL returns with an irresistible love story, set in early nineteenth century England, and driven by a full throttle plot—brimming with unexpected twists and turns—that captivates and surprises to the very end.
Lord Lyon is proud, principled, and exceedingly handsome—epitomizing everything a woman could want in an eligible bachelor. He is also cursed. To break the curse he needs to marry. His fervent hope is that by marrying―and having a son―he can destroy the curse's chains forever. Yet, there's a catch—if he falls in love with his bride, he dies. What Lyon needs is a loveless marriage.
Thea Martin is society's most brilliant matchmaker—and a duke's errant daughter. As teenagers, Lyon and Thea were inseparable, until he suddenly disappeared from her life without a word. Now Lyon has returned and is in need of a first rate matchmaker, and Thea is charged with the unimaginable task of finding a bride for a man who cannot love—for a man she could love so well.
Thea Martin has survived a loveless marriage, society's judgmental opinions, and the challenge of raising two boys on her own. Lord Lyon and his two siblings live cloistered in a world of fear, the curse of the Scottish witch that took the life of their father looming over their lives and affecting their every move. Both Thea and Lyon are in need of a fresh start—the kind that only new love can bring. But love for Lyon means death. Will he risk it all for a brief stint of happiness with the one he adores? Will anyone ever be courageous enough to confront the evil witch Fenella and put a stop to her curses once and for all?
In LYON'S BRIDE, Cathy Maxwell delivers another engaging love story, sure to delight lovers of historical romance, or anyone who enjoys a well told story—full of emotion, passion, and the risk of true love.
ABOUT THE AUTHOR
Cathy Maxwell is the New York Times best-selling author of twenty-five Avon romances. She is a former US Navy officer.? She lives outside Richmond, Virginia with her children, two dogs, a cat and two horses.
Learn more at www.cathymaxwell.com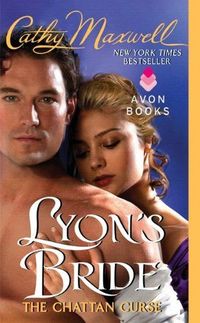 Chattan Family Curse-if a member of the Chattan family falls in love, they are cursed to die! Of course, that doesn't stop the Chattans from tempting fate.
The Chattan Curse #1
Avon
May 2012
384 pages
ISBN: 0062070223
EAN: 9780062070227
Kindle: B006569IV0
Paperback
Amazon
Barnes and Noble
Books-A-Million
Powell's Books
Local Independent Bookstore